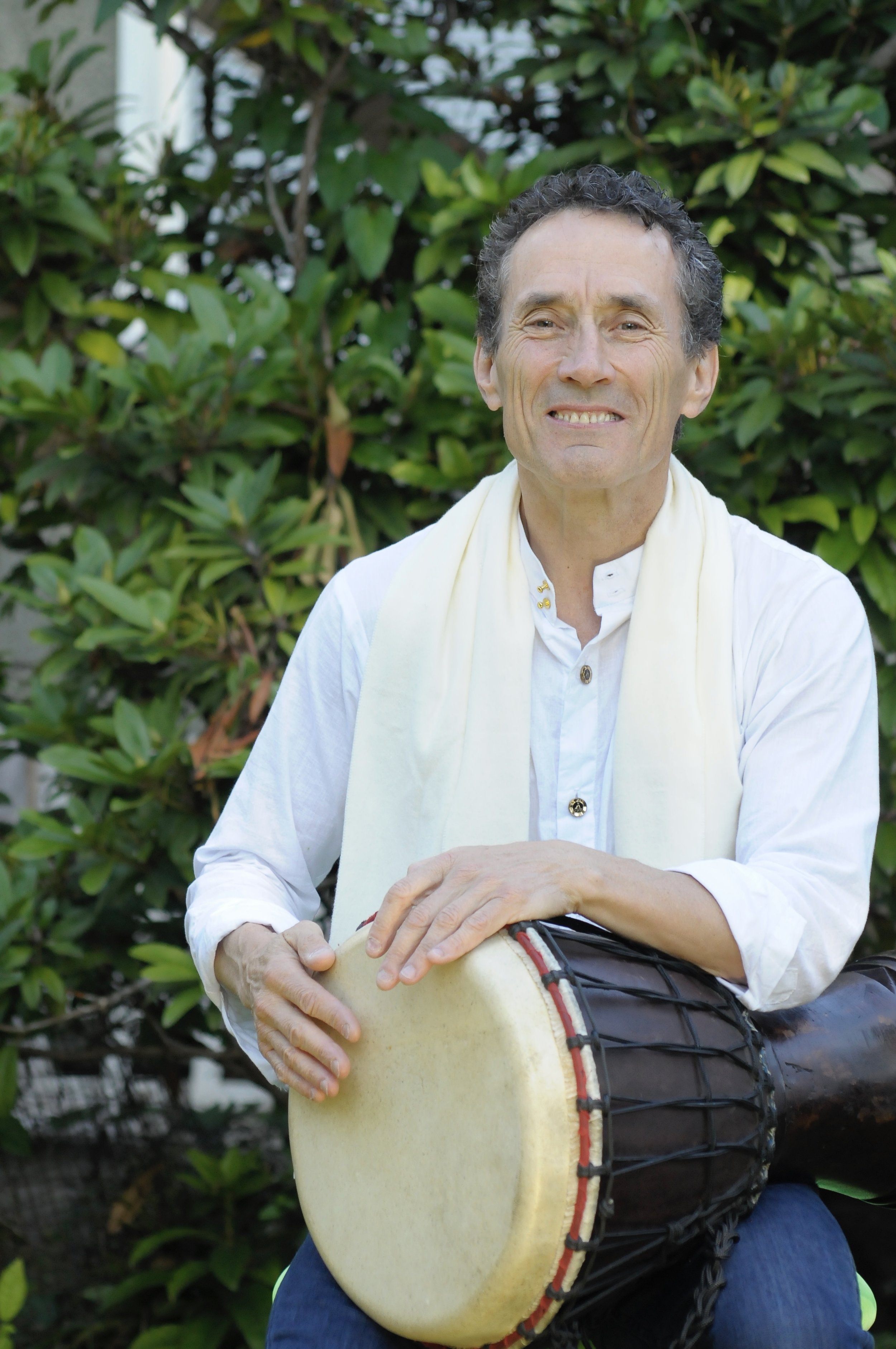 Lyle Povah is a musician, drum circle facilitator, researcher, and workshop leader, as well as a Kundalini Yoga teacher, with a particular interest in the areas of health and community building.
Sharing Yoga and Drumming With the World
Lyle lived for two years in China and Japan, teaching yoga and leading various therapeutic music and drum circle programs, including corporate team building sessions with IBM China and Joy International. He has utilized drumming, rhythm, the voice, and movement to promote all aspects of wellness in five continents.
Following his Kundalini Teacher Training at Yoga West in Vancouver in 2013, Lyle began teaching at Yoga One in Burnaby, Bound Lotus in North Vancouver, and at the Welcome Home Addiction Recovery Academy in Surrey. He also ran yoga and drumming programs at Mountain Institute maximum security prison in Agassiz.
In 2018, Lyle taught yoga and transformational drumming in Austria with the Wellbeing Project based out of Paris, France, a global initiative that assists social change leaders and organizations in focusing on inner wellness. Their upcoming 2019 retreat is in Sweden, with Spain slated for 2020.

Lyle offers programs at conventions, retreats, hospitals, festivals, and correctional facilities. He presents at national and international conferences, works in health care centres, eating disorder and psychiatry wards, and with the underprivileged.
Bringing Drumming and Healing to Organizations
Lyle and his company Drumming and Health has conducted groundbreaking research into the health benefits of drumming for eating disorder patients at St. Paul's Hospital's In-Patient Eating Disorders Program. He has also worked at British Columbia Children's Hospital one day a week for over 25 years.
Corporately, he works regularly with UBC's Sauder School of Business and many other organizations, banks and universities.

Recent events of note include a drumming and rhythm session for 900 attendees at Lululemon's International Leadership Conference in Whistler, Canada, the week long "Embody your Expansive Spirit - a Yoga and Drumming Retreat" in Santa Teresa, Costa Rica, and an event for TEDx Stanley Park for 2,700 people at Vancouver's Queen Elizabeth Theatre.
Lyle has had the honour to have collaborated with First Nations groups (Northwest Territories, Northern Manitoba, and British Columbia), including the Dene, Stolo, and Katzie Nations.
Drum Running Across BC
Lyle is also an international marathon and ultramarathon runner, last year running the Boston Marathon and the eighty kilometre "Whistler 50". Drumming and Health will soon launch Drum Run, a running and drumming adventure tour that combines distance running from city to city throughout BC with healing Community Drum Circles in each community on the tour, all to benefit local charities.
DrumYogaChant in the Jungle
Most recently, Lyle has launched a series of Vancouver Community Circles called DrumYogaChant , and is in the initial planning stages for a week long drumming and Kundalini yoga retreat in the Belize jungle in early 2020.
For more information visit: drummingandhealth.com